Ordergroove's analytics dashboard gives you data to make key decisions for the growth of your subscription program. The available analytic metrics and flexible exports provide an overview of your program's performance, detailed data to evaluate performance over time, and data to understand the impact of your decisions.
---
Watch a video
---
Overview
The analytics dashboard is designed to give you all the date you need to judge the health of your subscription program and make data-backed decisions. There are three main sections:
How your program is doing today
More details about your...
Your program at a glance
All of the metrics can be filtered, and there are additional views, tabs, you can dive into. 
Filter your dashboard
All metrics and charts can be filtered on products, date range, and time frame aggregation.
Product Filter: Choosing a particular product or a set of products filters metrics on the page to reflect data associated with those particular products.
Date Range filter: Choosing a specific date range filters metrics and charts on the page to the timeframe chosen. 
Aggregation filter: M

etrics and charts will adjust so data reflects yearly, monthly, weekly, or daily aggregated values.
Additional views
There are seven additional views you can access for in-depth metrics and charts.

---
How your program is doing today

The first section highlights key metrics for you to understand today's enrollment and revenue performance. These two data areas are important as you think about business health and growth. 
Enrollment metrics include:
Active subscribers: The number of subscribers on a given date or time with at least 1 active subscription.
Active subscriptions: The number of subscriptions that have not been canceled since creation.
Revenue metrics include:
Today's Revenue: The total value of today's subscription sales after discounts, excluding taxes and shipping. This is a sum of all new, recurring, and upsell revenue.
Projected Revenue: The value of expected revenue for today or upcoming days.  This metric will be coming soon! 
Note: Click on View Details underneath any of the metrics to customize the next two sessions.
---
More details about your...

This section provides charts that can be quickly filtered for a couple of different standard time periods: the Past 7 days, the Past 30 days, and the Past Year. Full detailed charts and customizable date ranges can be accessed by clicking on View more details.
The charts in this section will vary based on which metric you click in section one, but will show one of the following:
Breakdown of total, existing, new, and cancelled subscribers or subscriptions: The counts of subscribers or subscriptions that are newly created, previously created, or have cancelled. 
Past or future revenue over periods of time: The sum of new, recurring, and upsell revenue looking at the past or predicting the future.
Breakdown of new, recurring, or upsell revenue: The amounts of revenue from an initial order, a successful recurring order, or from additional one-time or subscription revenue added to an upcoming subscription order.
---
Your program at a glance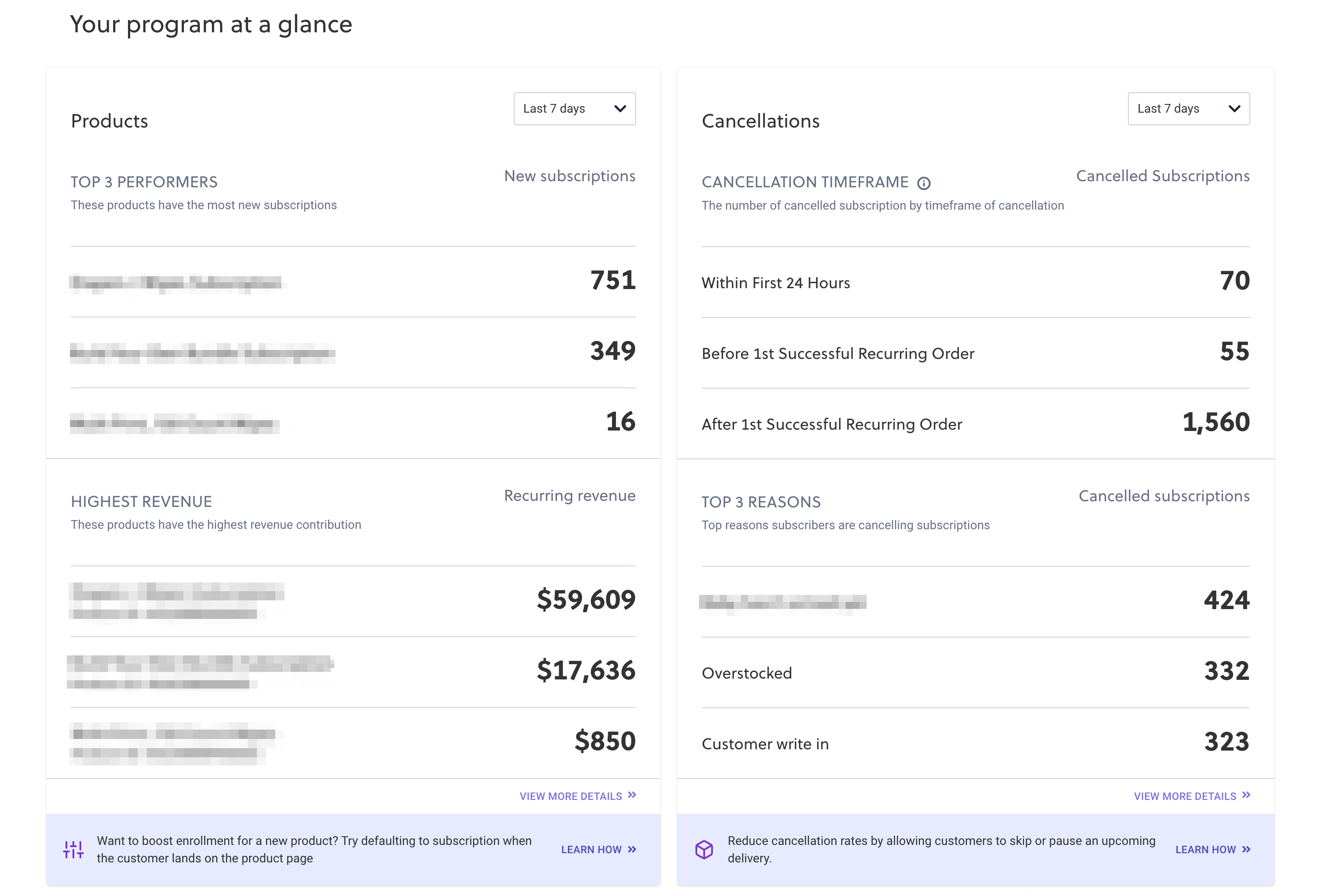 The Your program at a glance section contains key takeaway metrics around products and cancellations. It's designed to help you understand more about your best performing products, and customer behavior around cancellations.
Metrics displayed:
Top performing products: The top three products with the highest number of active subscriptions within the selected time period.
Highest subscription revenue products: The top three products with the highest subscription revenue across all time.
Cancellation timeframe: The number of cancelled subscriptions relative to their time of creation within the selected time period.
Top cancellation reasons:  The top three reasons customers have selected while cancelling a subscription.
---
Additional resources