Ordergroove will automatically retry a customer's payment method if an order fails, but some orders will still get rejected by your payment processor. It's important to nip these rejected orders in the bud to keep them from piling up and affecting your subscription revenue. This guide will take you through what rejected payments are, the specific steps you can take to view them, and how to recover some of the lost revenue.
---
Why orders fail
Credit and debit cards can fail for a variety of reasons including:
Past expiration date
Insufficient funds
Suspicious activity
Out-of-date billing address
These card declines, or rejected payments, are flagged by the cardholder's bank or institution. For some issues like insufficient funds, Ordergroove's automatic retry might recover the lost revenue. But for most of these errors, you will have to reach out to your customers and request that they get in touch with their bank or update their payment details. You can export a list from Ordergroove to get started.
---
View rejected orders
You can export out a list of rejected orders through On Demand Data Exports.
Open up Ordergroove, hover over Data and click Analytics.
Click the Create Report button on the right.
Select Orders, and choose Orders - Rejected from the dropdown menu.
Click Edit Columns and check off Rejected Error Code, along with any other optional columns you would like to include.
Click Export Report and you can download your report as soon as it's finished generating. You'll also receive an email reminder.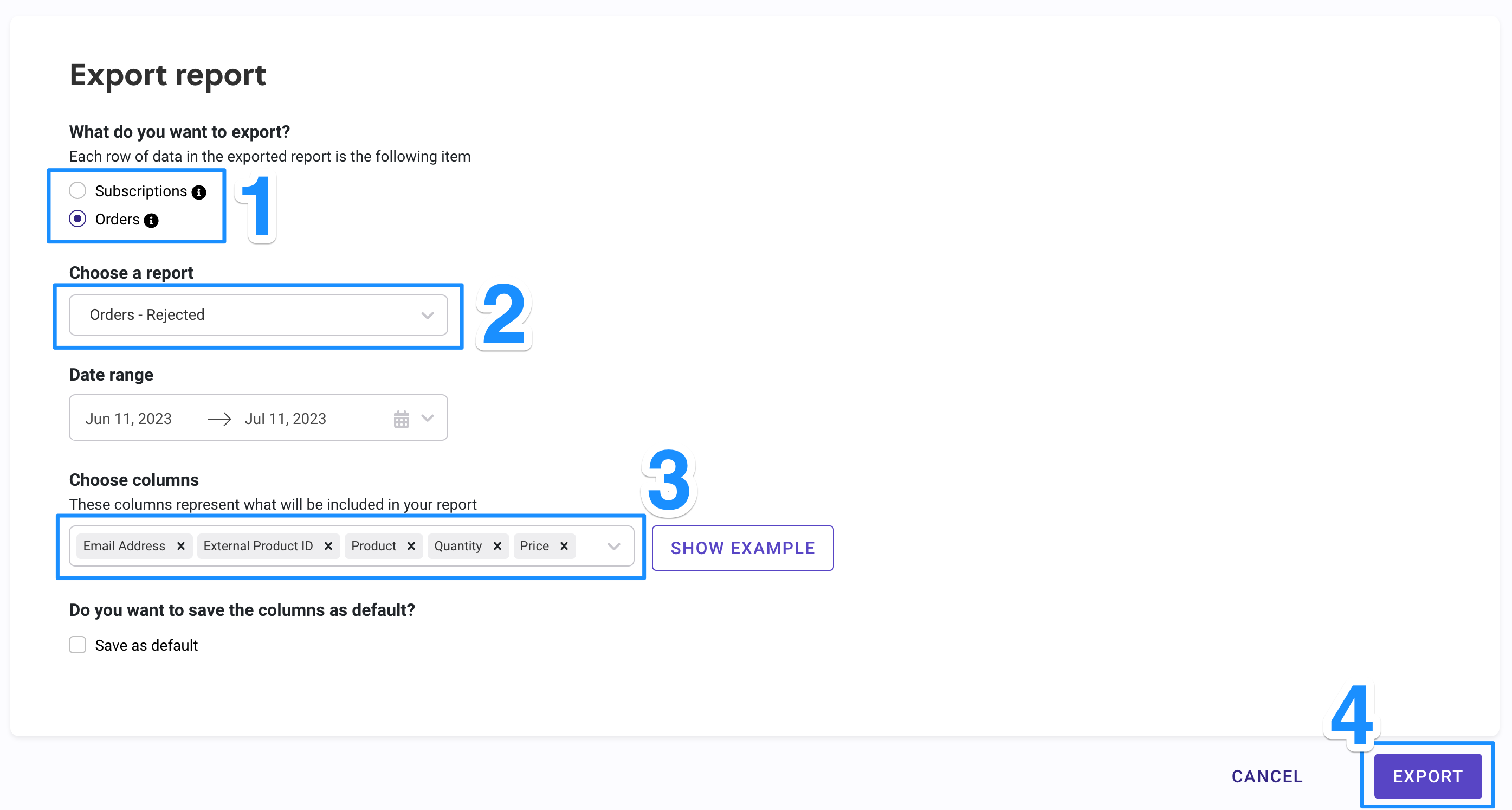 ---
Understanding error codes
With your exported list of rejected orders open, take a look at the Rejected Error Code column. Each rejected payment will have an Error Code number detailing why the order was rejected. Error Response Codes has a complete list, keep an eye out for error codes where no communication is sent out. These customers, referred to as disengaged subscribers or disengaged subscriptions, will continue to fail until they are canceled by the customer or you step in and intervene.
---
Tips for recovering additional revenue
Payments are inevitably going to fail, many of the issues we discuss in this article are out of your control as the business owner. This doesn't mean that you're powerless, you can still recover a lot of that lost revenue.
According to Churnbuster, the average recovery rate for rejected payments is around 50.3%. It's unlikely that you'll be able to recover every rejected payment, but here's what you can do to boost your business's success rate.
Customize automatic emails
Ordergroove will automatically send an email to customers with rejected payments, picking from three templates depending on their particular circumstances. Take a look in Ordergoove under Subscriptions, Emails for the following templates. We recommend updating the email templates to match your brand, and sending out a test of each one to make sure everything looks right.
Order Not Placed - CC Expired
Order Not Placed - CC Issue
Order Not Placed - Generic Issue
Reach out to your customers
Create a plan for your business to reach out to customers that haven't updated their payment method yet. Ordergroove will retry their order a set number of times based on your store settings, after that a friendly follow-up could help remind and persuade customers to update their details.
Contact your payment processor
Your payment processor can provide additional details about failed charges, especially if you notice a spike in orders rejected due to suspicious activity or fraud. The process will be different depending on which payment processor you use.