When choosing the right promotion for your subscription program, context and exclusivity are key. Subscription should consistently be the best and most rewarding way to shop your website. The benefits of subscribing should be clear to your customers, and they should include benefits the customer can not receive elsewhere.
Note: Some of the promotions described below may require effort from your development team or your technology partners. Please reach out to Ordergroove if you are considering any advanced promotions.
---
What to consider when choosing a promotion
How does the promotion stack up against your total site promotional strategy?
If you constantly run 15% off promotions and do not have a discount for subscriptions, there will be a limited incentive for the customer to join and stay in the program. If discounts are part of your strategy, you should have a discount promotion for your subscription program. 
If you very rarely do percent-off promotions or discounts, then a small discount (5%), retention reward (e.g., 4th order free), or a gift with purchase would be an enticing promotion for your customers. 


What are your competitors doing in their subscription programs?
If all of your competitors are offering a percent-off discount, you should follow suit to remain competitive against their offerings.


What matters most to your customer?
Do your customers care more about free shipping, a discount, or exclusive gifts with purchase? Follow your customer's preferences and shopping habits when establishing your subscription promotion.
What is profitable?
Of course, you should keep margin and profitability in mind when choosing a subscription promotion. Although 50% off and free shipping will drive high sign-ups, it likely isn't sustainable for your business long-term.
If you can't offer free shipping under a certain price threshold, consider limiting subscription eligibility or setting up a free shipping minimum for subscriptions.
What will make your customer sign up for a subscription with you instead of making a one-time purchase or buying it elsewhere?
Within Ordergroove's Relationship Commerce Cloud®, you're able to configure the following types of promotions. Please note that you can leverage more than one promotion at a time to create an incentive structure that will resonate the most with your customers.


---
Types of Promotions
Discounts
Discounts are the most common type of promotion across our clients' subscription programs and for a good reason. In a McKinsey & Company survey, customers stated that a financial incentive was a primary driver of subscription enrollment.
You can choose to offer a discount on the initial, recurring, or both initial and recurring subscription orders. Examples of discounts include percent-off and amount-off your order.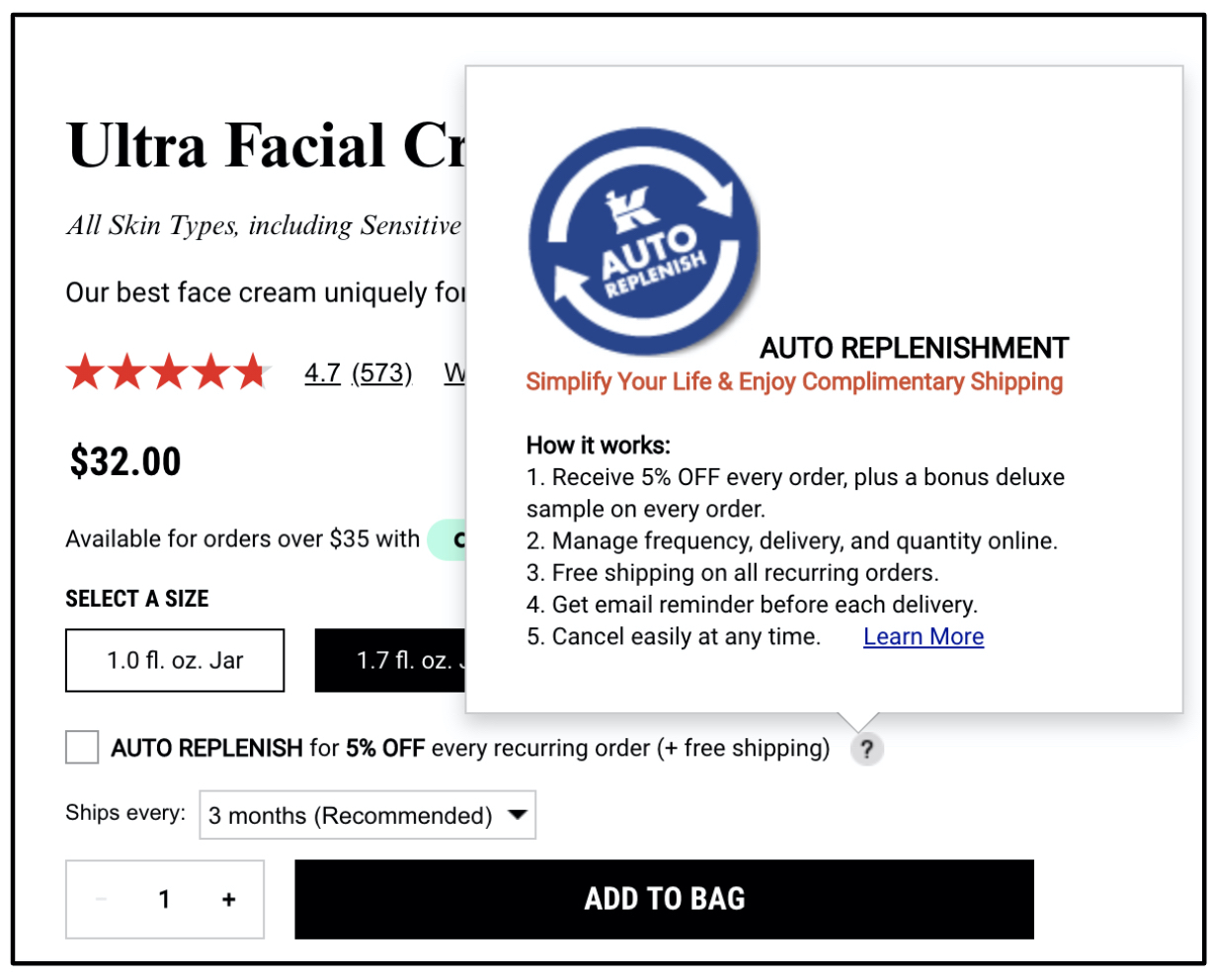 Kiehl's offers 5% off, free shipping, and a gift with purchase on every order.


Free Shipping
Another common promotion is free or discounted shipping. You may choose to offer free shipping on the entire order, or if you have margin concerns, you can also offer a shipping threshold (i.e., free shipping over $50). If you typically have a high free shipping threshold, another option is to offer a lower free shipping threshold for subscription orders.
Shipping promotions are typically combined with a Discount promotion.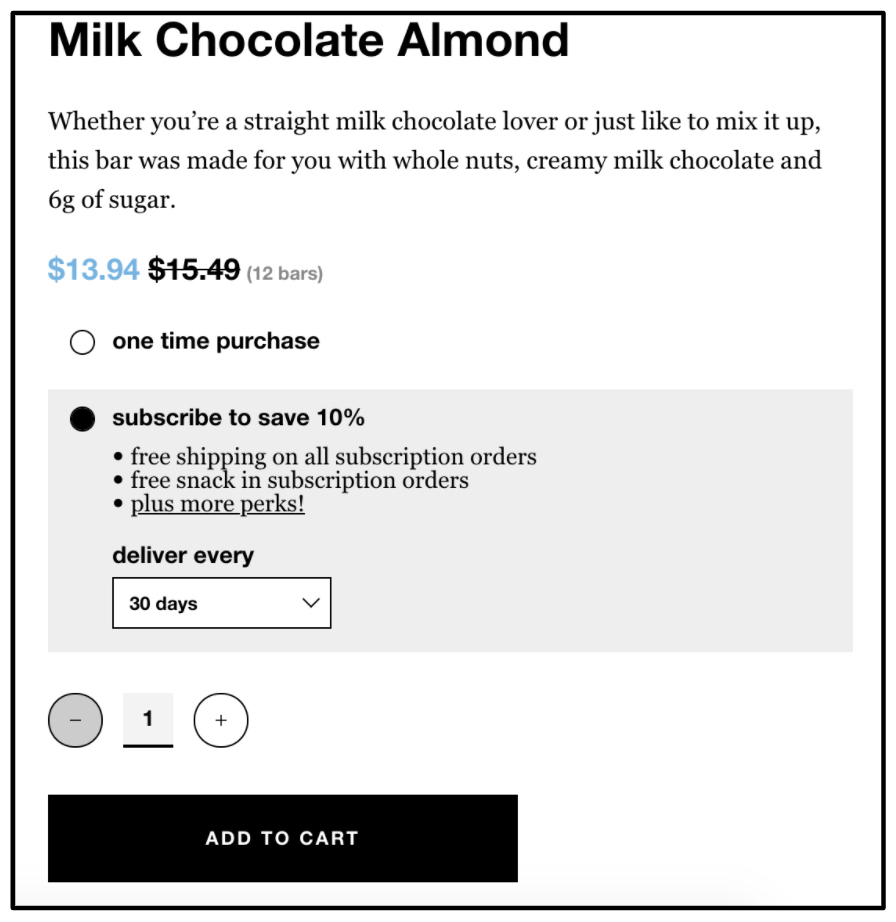 KIND Snacks offers free shipping on all subscription orders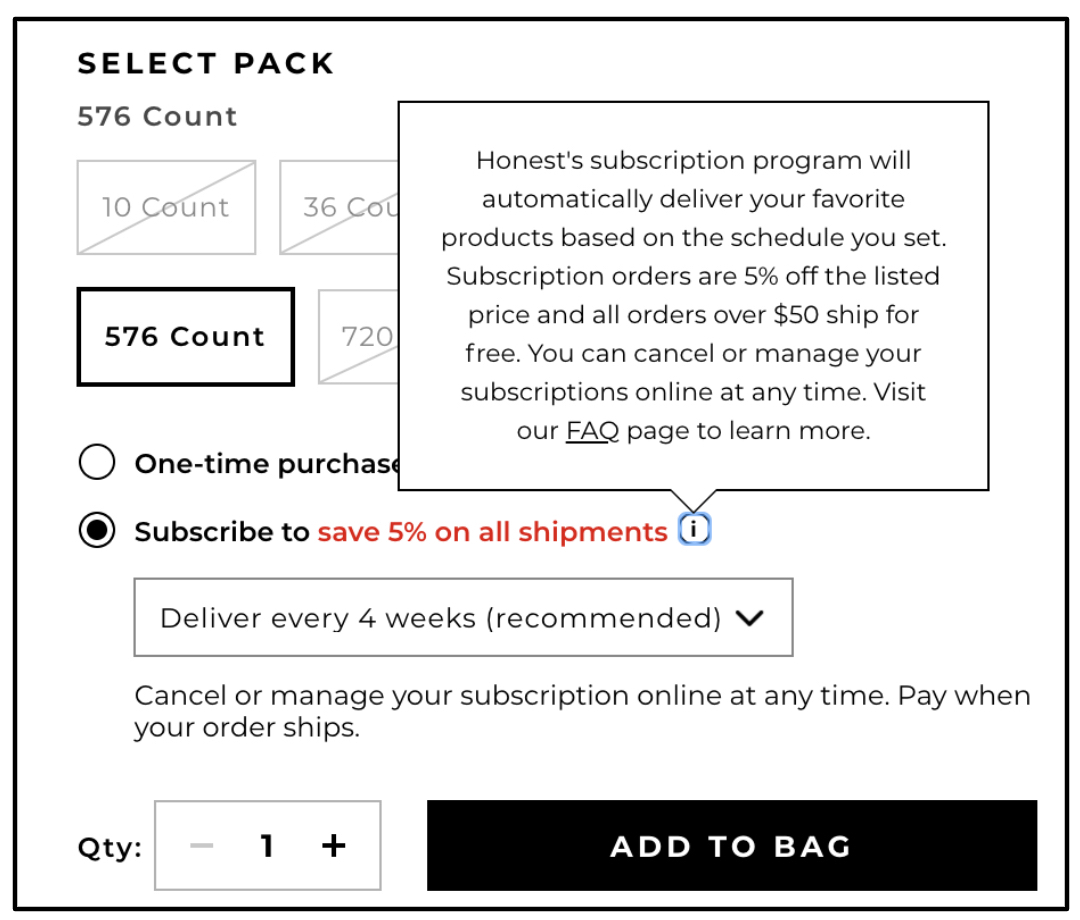 Honest Company offers free shipping on subscription purchases over $50


Retention Rewards
Retention rewards, also known as "Nth subscription order discounts," are a way to reward subscribers for remaining in the program and receiving recurring orders. These are incentives attached to a specific order. This could be a free order (i.e., every 4th order free), a gift with purchase (i.e., receive a gift with every 3rd order), or an increased discount (i.e., receive 15% off every 5th order). 

Gillette offers every 4th order free.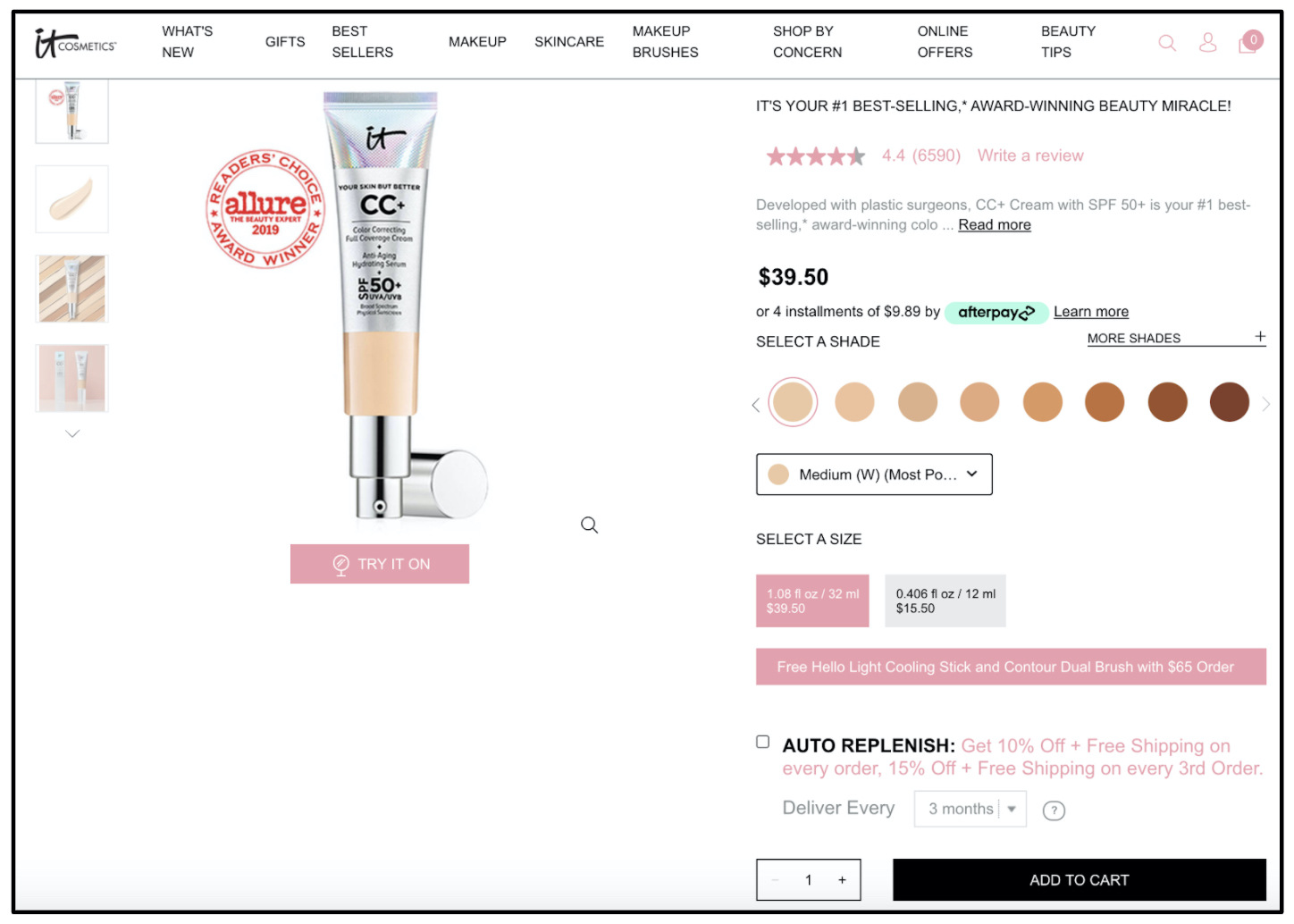 IT Cosmetics offers an additional discount on every 3rd order.


Subscribe More, Save More
Subscribe More, Save More allows you to offer stronger incentives based on a customer's active subscriptions. For example, customers could receive 5% off for one subscription, 10% off for two subscriptions, 15% off for three or more subscriptions, etc.
Subscribe More, Save More helps drive customer loyalty and increases AOV by giving a higher promotion for having more subscriptions. By having tiered program benefits, you'll be rewarding your customers for making multiple purchases from the brand.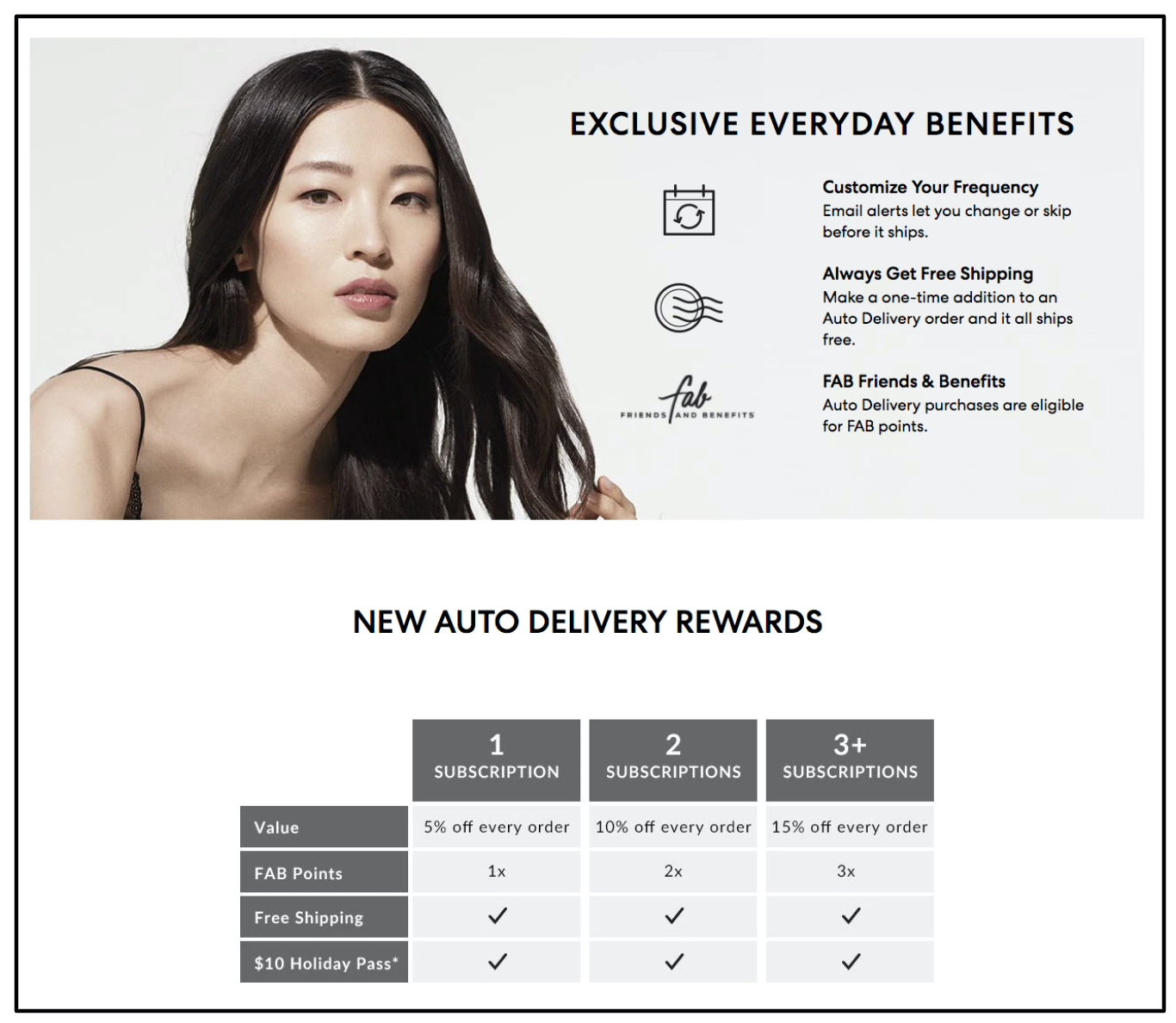 bareMinerals has a subscribe more, save more structure that provides a deeper discount and more loyalty points per order based on a subscriber's number of active subscriptions


Best Deal Guarantee
Best Deal Guarantee is an Ordergroove feature that allows you to offer subscribers the best price on a product within a specified lookback window. By offering a Best Deal Guarantee, you assure subscribers that they will be charged the lowest price offered for their subscription product.
Best Deal Guarantee looks at the prices sent in the product feed for a product within a lookback period, typically 14-30 days, depending on your choice. When Ordergroove sends a recurring order to you, we look at the product feed for the lookback period, and we find the lowest price. From there, we apply the subscription discount (if applicable) to that lowest price.

Best Deal Guarantee is a great incentive to offer if your price offerings are constantly changing.


Gift With Purchase (GWP)
Gift with Purchase or GWP allows you to add a free gift, such as a deluxe sample or branded gift (like a tote bag), with subscription orders. In addition to rewarding customers for subscribing, GWPs are a great way to introduce subscribers to new products and encourage additional purchases.
Gift items can be added to orders, or to individual items within orders. The Ordergroove team can help you build logic to apply a gift item to every order/item, or apply different gifts to recurring orders on a defined basis. All GWP logic is determined by order number, and cannot be time-based (IE Ordergroove adds gifts to recurring order 1, recurring order 2, and so on - not orders shipping in January, February, and so on).
As a note, any GWPs attached to initial subscription orders at checkout will be managed by you. Ordergroove will manage GWPs attached to recurring orders. 


---
Further reading