The Ordergroove Early Access Program enables merchants to explore the latest offerings and functionalities within the Ordergroove platform.
As a participant, you'll be granted exclusive first access to new features and functionality. Your feedback will play a direct role in enhancing Ordergroove's product and feature lineup.
---
Benefits
Ordergroove's Early Access Program allows merchants to try out features and settings before officially releasing them to the public. Merchants get special access, dedicated support, and a direct line for feedback, while Ordergroove gains valuable insight to help direct the development roadmap.
1. Early Access to New Features
Merchants in the Early Access Program are among the first to try out and experience new features and enhancements before the general public. You get access to revenue-generating features before anyone else. You can make your store a trendsetter at the forefront of eCommerce advancements.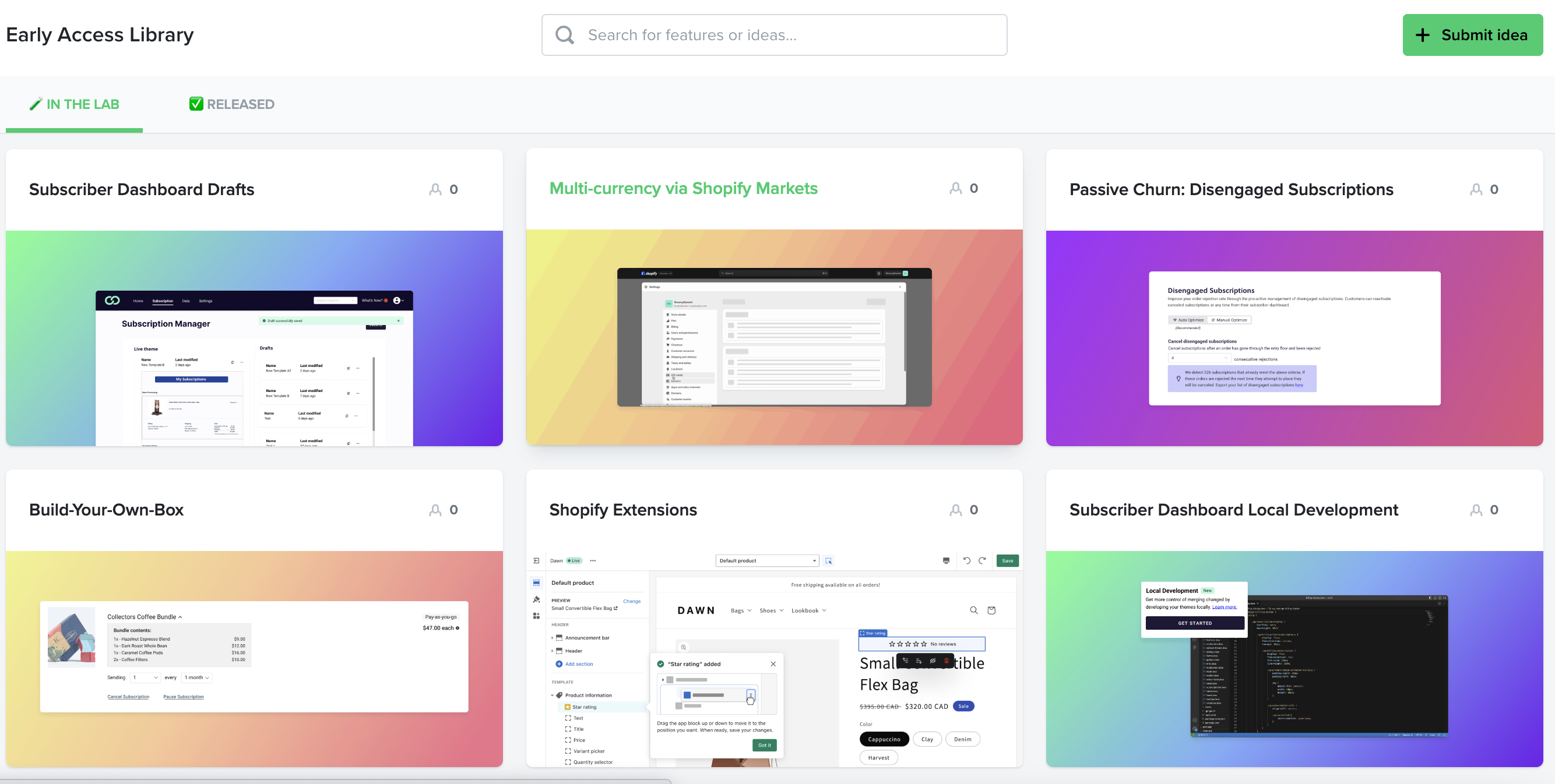 2. Personalized Support
Products in early access are supported by Ordergroove's product team. You will receive direct support from the team responsible for bringing new features to the platform. Our senior technical teams offer hands-on help with any questions, issues, and feedback.
3. Influence on Product Development
Early access participants are encouraged to provide feedback directly to the development team. This feedback can shape the direction of the product, ensuring that it aligns with your needs and preferences.
---
Get started

Join Early Access Program
Sign up to get access to the Early Access Library - an online portal where you can view and request upcoming features. You can sign up from the Ordergroove Dashboard; go to Account > My Store.

Opt-In to New Features
The Early Access Library displays all upcoming features set to be released in the near future.
Test Drive New Functionality
Ordergroove will let you know when the feature is available for your store. Give the new features a spin!
We'll automatically add you to any features that fit your tech stack and do not modify your website or offerings. You'll get an email a few days before any functionality goes live with an option to opt out.
Note: Ordergroove offers multiple early access features at any time, and can not guarantee that all of them will be compatible with your eCommerce platform or tech stack. We'll do our best to include as many merchants as we can, but may not be able to accommodate all requests.
Share Your Feedback
Let Ordergroove know your thoughts. We'll use your feedback to adjust the upcoming product roadmap.
---
Additional Information
As a participant in the program, Ordergroove expects feedback on the features you've tried out. It doesn't need to be anything formal, we're just looking for your thoughts and opinions so we can continue to make Ordergroove the best subscription management platform.
You could be asked to share your insights and learnings with the industry, positioning yourself and your company as an innovative market leader.