Your Product Details Page (PDP) is one of the most important contact points you have with your store visitors and customers. In this article, we'll go through small but impactful changes you can make to maximize enrollment and help convince potential customers that subscribing is worth it.
---
Benefits of modifying your PDP
Most eCommerce store themes aren't built with subscriptions in mind. When you add your Subscription Enrollment widget to your product page, there's a good chance it won't be in the optimal spot or customers may skim over it entirely.
With just a few small tweaks and touchups, you can maximize subscription enrollment and keep your program happy where it counts: your bottom line. Ordergroove has tested a number of different solutions and the following are our clear winners. You can add all of our suggestions, mix and match as appropriate for your business, or test a few at a time to see the results for yourself.
---
Highlight the discount
Most subscription offerings bundle in a discount to entice customers into repeat purchases. If you offer a discount, make sure to highlight, bold, or change the formatting of the discount so it pops out and draws a customer's eye.
In our testing, Ordergroove's merchants saw an enrollment lift between 5% up to a full 100% conversion boost. Merchants who did not show a discount before saw the biggest lift.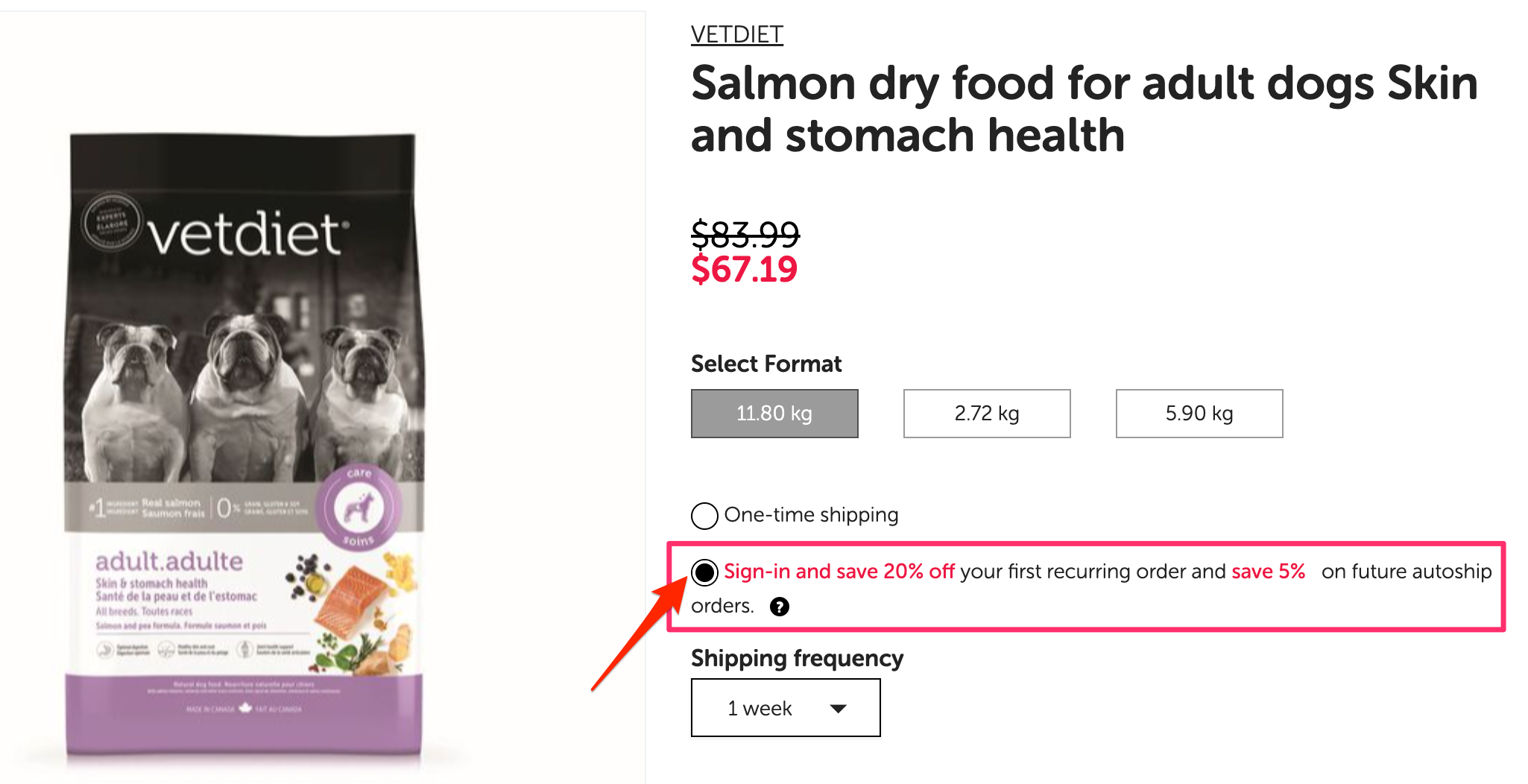 Mondou highlights the discount you can expect by signing up for a subscription.
---
Default to subscription on page load
When customers load a product page, the default option selected is one-time purchase. Consider swapping it up so that subscriptions are selected by default. Keep in mind that some customers may not realize they are signing up for a subscription if it's selected by default, consider your target market before changing the default.
We recommend trying this option out in a limited test, while most merchants saw a boost between 11% and 176%, a small number of stores saw a decrease in enrollment between -7 and -20%.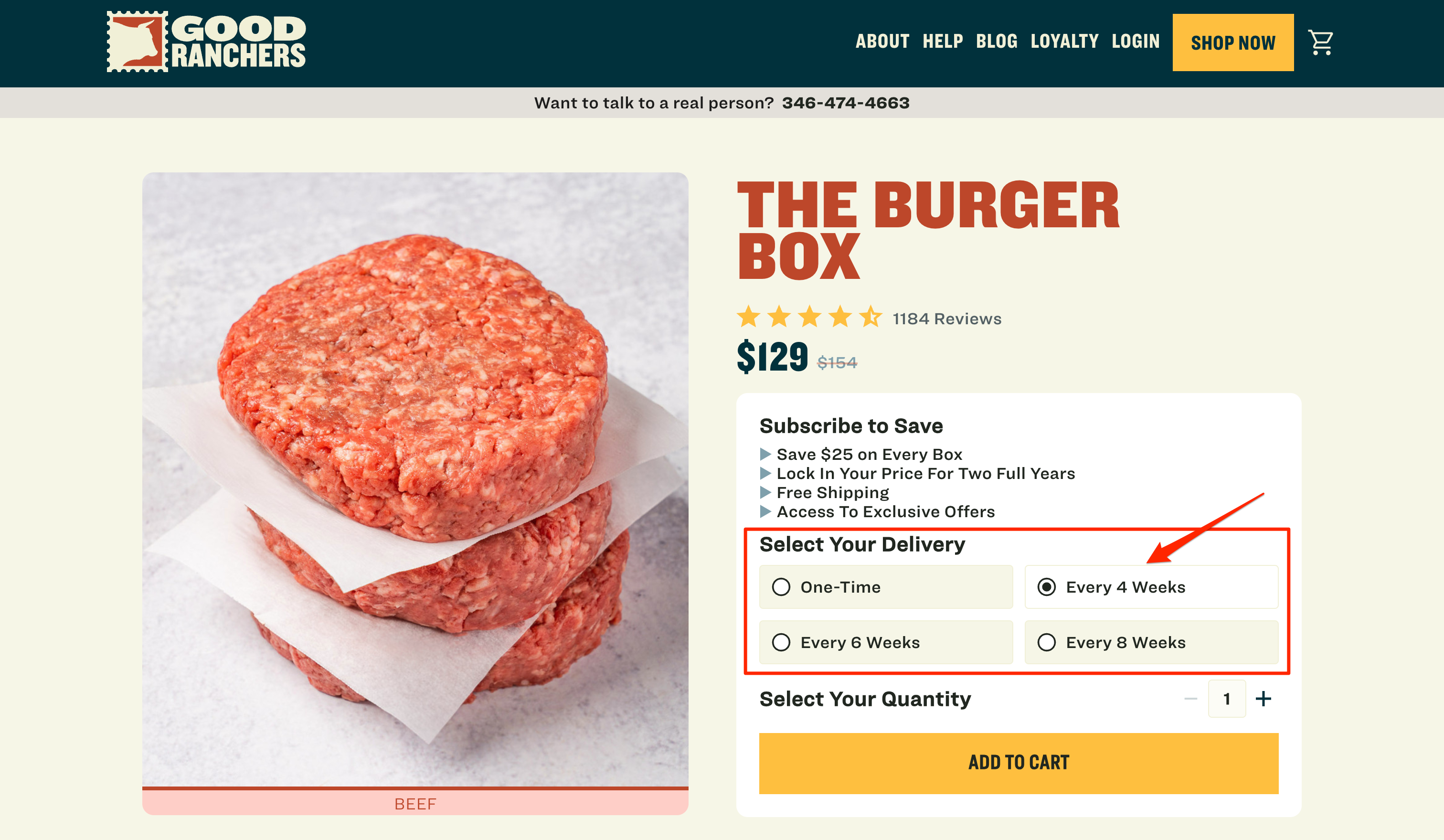 When you load a Good Ranchers product page, subscriptions are selected by default.
---
Show discount where consumer takes action
Similar to Highlight the discount above, make sure your potential customers know what kind of discount incentive they can expect to receive. Tap into positive psychology by placing the discount they can expect as close to the Add to Cart button as possible.
Our results were also similar to Highlight the discount, merchants saw between a 5% to 89% boost when they moved the discount down next to the call to action - usually an Add to Cart or Buy Now button.
---
Show the subscription option first
When your product page loads the subscription enrollment widget, the one-time purchase option loads above the new subscription option. Customers follow the path of least resistance, and only skim read the first option.
Ordergroove merchants have tested swapping the one-time and subscription options, and have seen conversion gains anywhere from a 0% null all the way up to a high of 63%, with an average lift of around 15%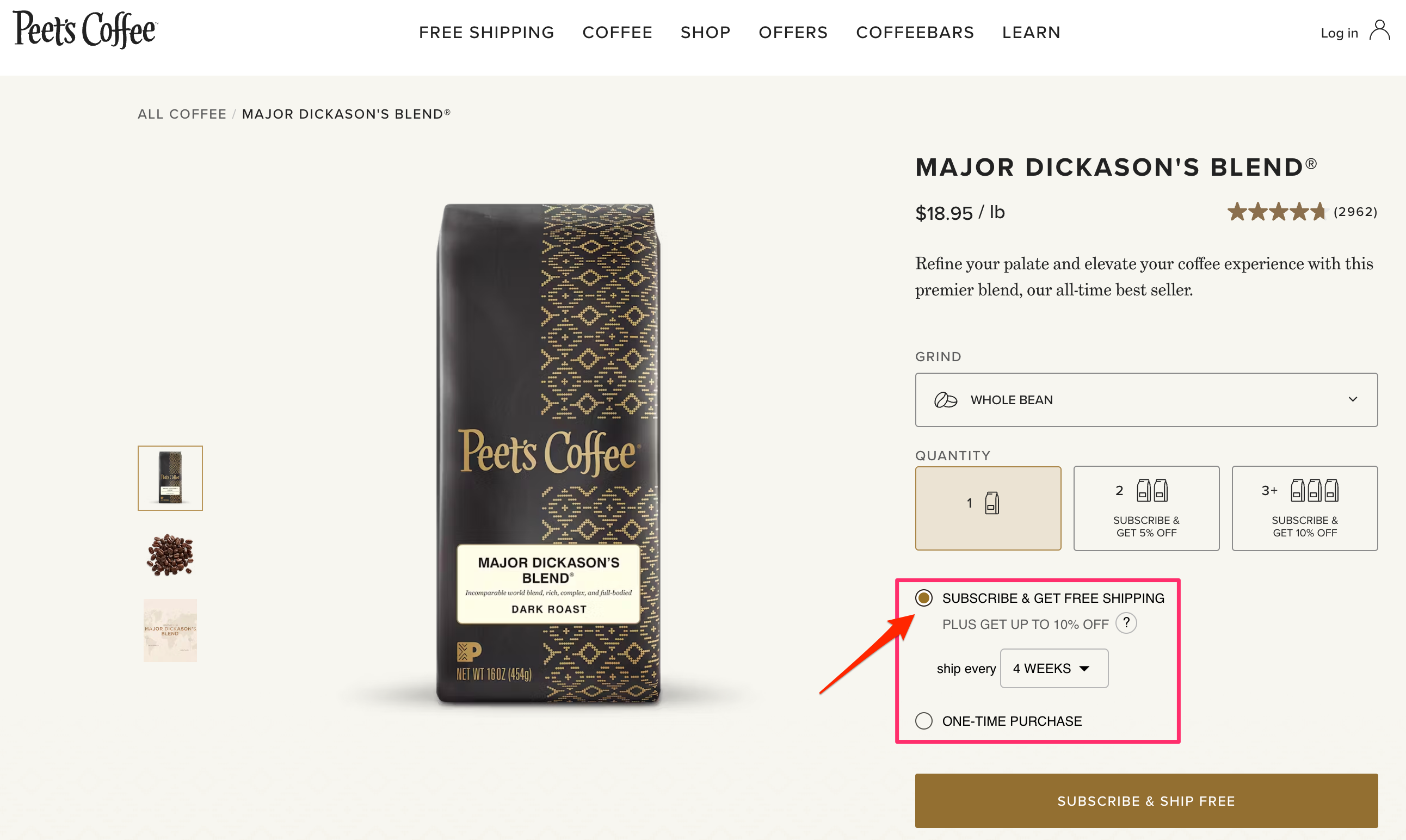 Peet's Coffee flipped the enrollment widget so that the subscription option is at the top.
---
Make your subscription option eye-catching
Dress up your subscription option by bolding the option or changing the color so that it sticks out when customers skim your product page. Color in particular is extremely important - consumers make decisions about a brand in 90 seconds and 62-90% of snap decisions are made based on reaction to color alone.
Merchants who tested changing the background color behind the subscription option saw a lift between +8% and +49%.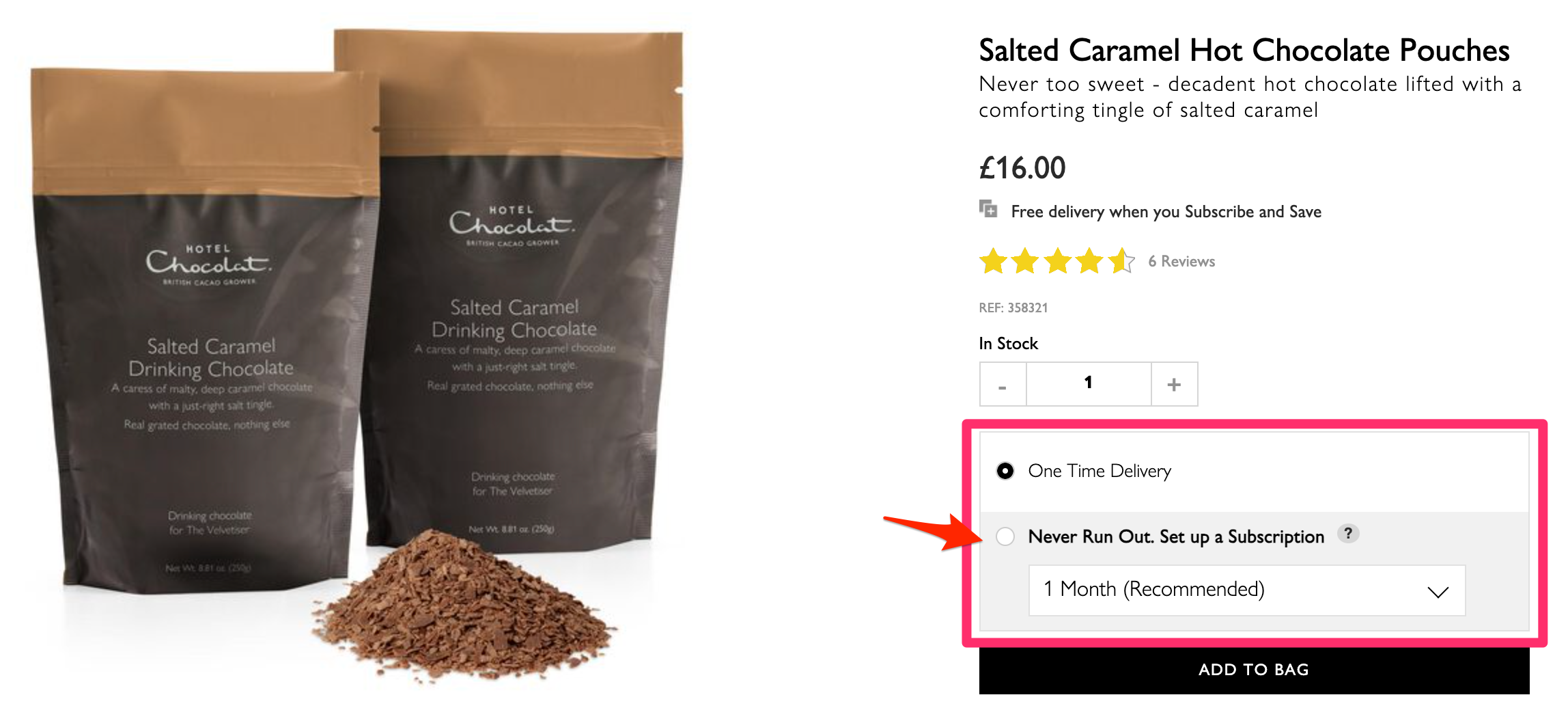 Hotel Chocolat bolds and highlights the subscription option with a background color, making it impossible to miss.
---
Default to the most popular subscription frequency
Many subscription programs offer multiple frequencies - for example customers might have the option to renew every 1, 2, and 3 months. Make sure your enrollment widget defaults to the most popular option on page load. Conversion is an uphill battle, make it as easy as possible for the customers to checkout with the fewest clicks possible to maximize subscription enrollment.
Merchants who tested changing the background color behind the subscription option saw a lift between +6% and +22%.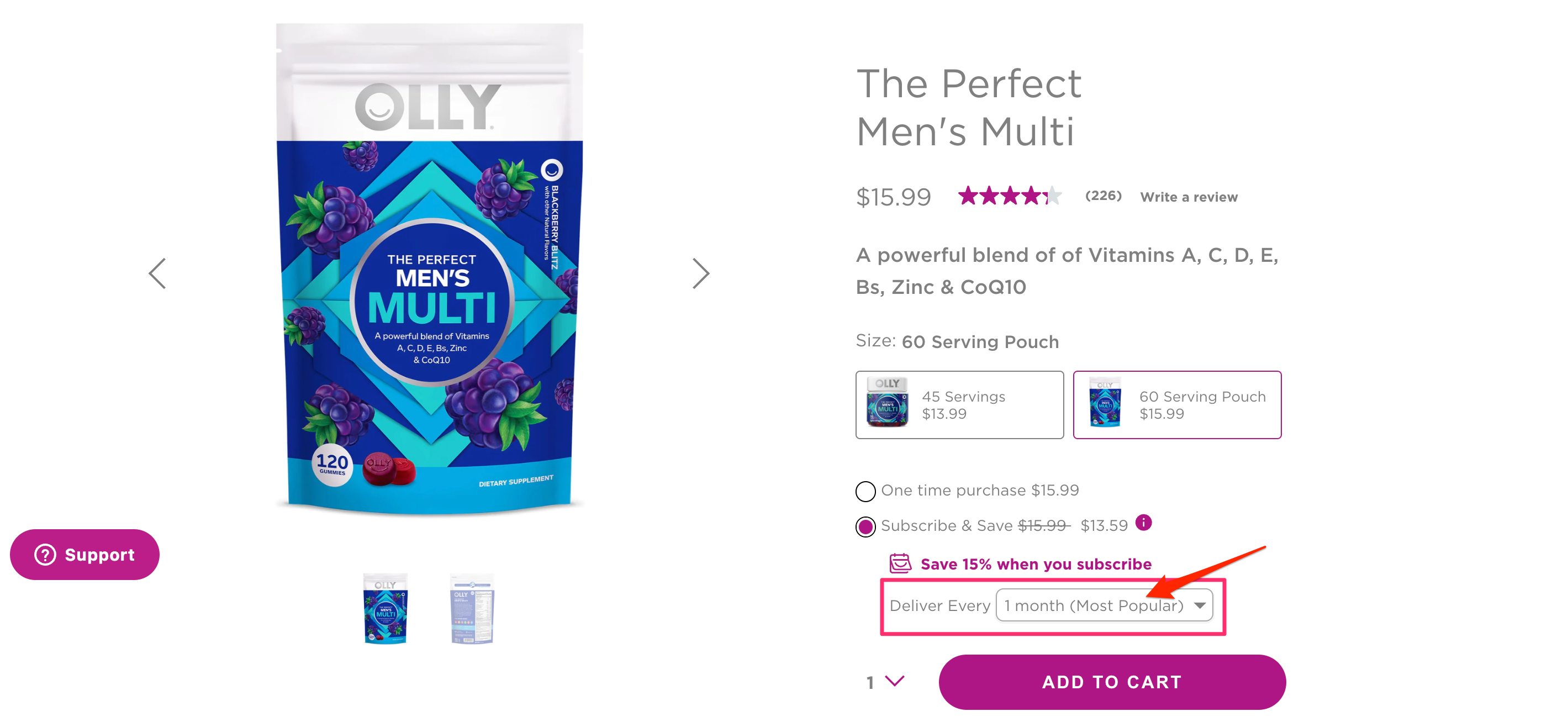 Olly's subscriptions default to the most popular subscription frequency - 1 month.
---
Creative subscription name
Consumers have seen common phrases like 'Subscribe and Save' and 'Auto-Ship' absolutely everywhere and are immune, if not completely bored. Get creative with the messaging around your subscription program. For brownie points, consider replacing 'subscription' with a benefit like 'never run out of toilet paper.'
Merchants who tested out new language for the subscribe and save option saw anywhere from no boost, to an increased enrollment boost of 9%.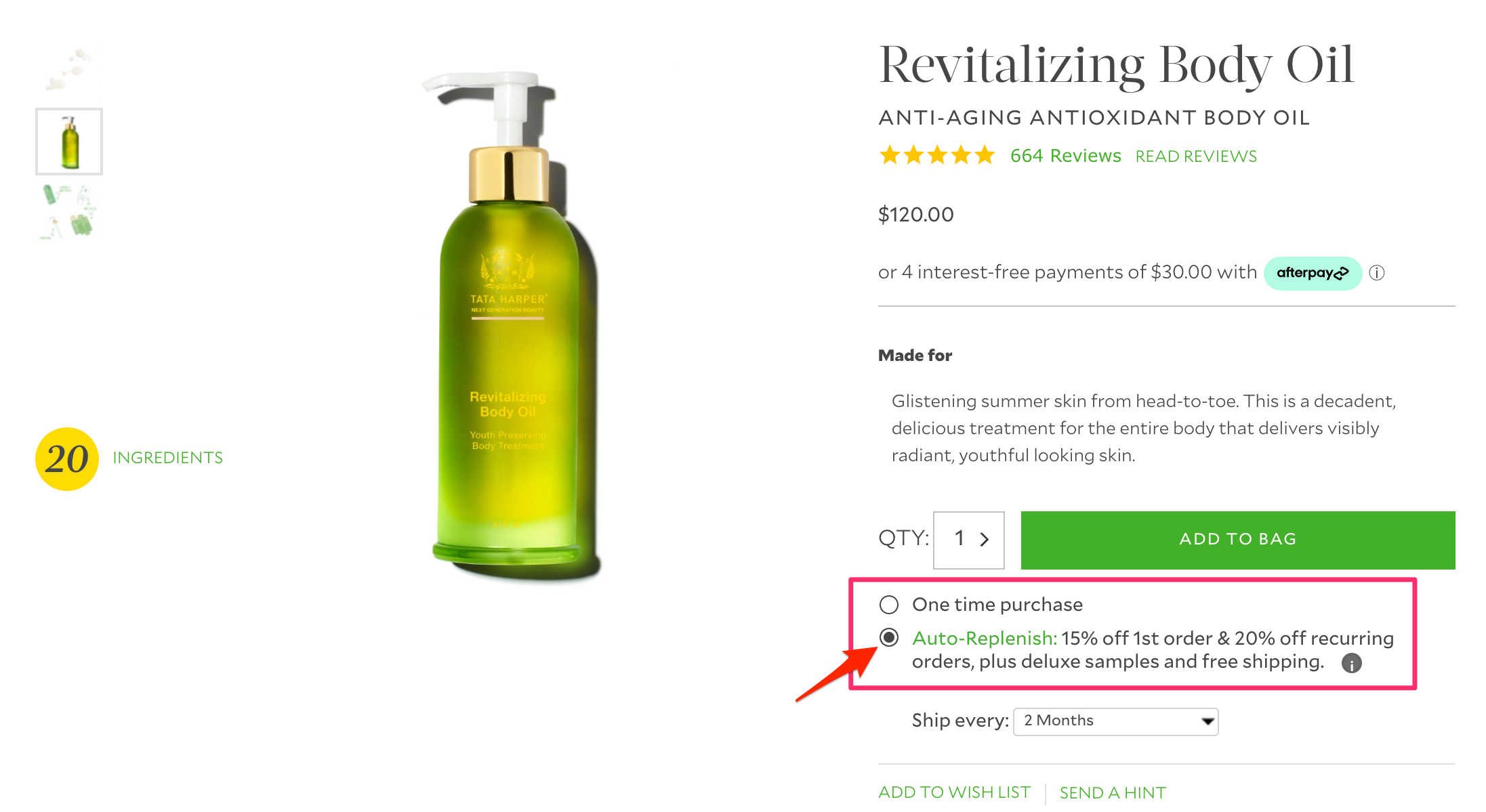 Tata Harper swaps standard 'subscribe and save' language with Auto-Replenish, highlighting a big benefit of their subscriptions.
---
Ease subscription stigma
Consumers are more wary of subscriptions now than they were a few years ago. That doesn't mean you should abandon ship, it just means you have to be smarter about how you address those concerns.
Put any benefits as close to the checkout button as possible, and make sure to highlight if the customer can cancel or edit at any time, and that they'll be notified ahead of each order. Lay all of the cards on the table and highlight how easy it is to modify a subscription - no one wants to feel like they're trapped.
Adding benefits to the Add to Cart button had no statistical significance on subscription enrollment, but merchants who tested it out reported an average 10% boost to month-over-month subscriber retention.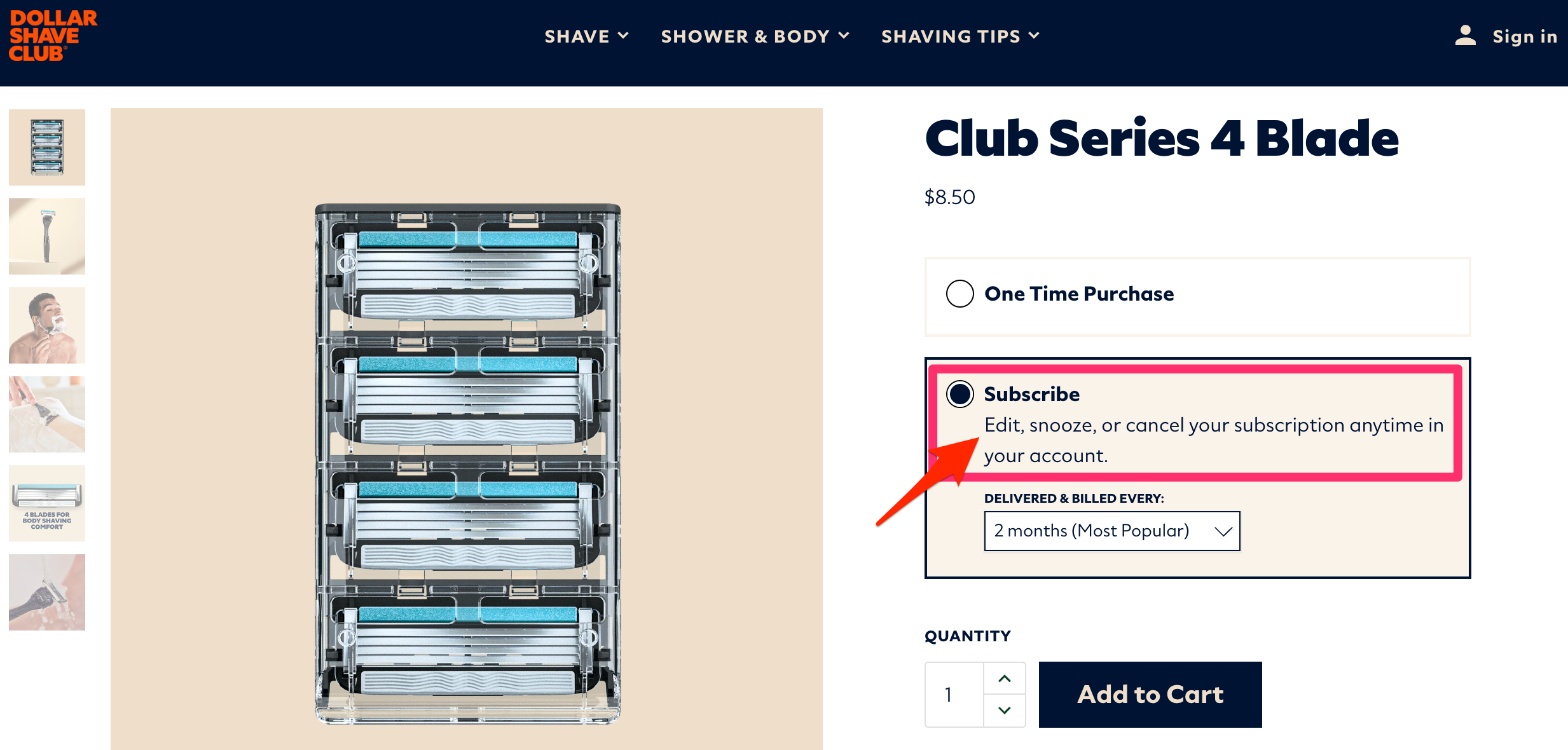 Dollar Shave Club makes it clear that their subscribers can modify the subscription on their own terms.
---
Double-check that your theme is mobile-ready
Speaking of mobile, make sure that your theme is mobile-ready. Test it out on your own phone, even if it's still in a development sandbox. 97% of Americans now own a smartphone, and by some counts 50% of all web traffic is now mobile. Don't let mobile be a second-class citizen, make sure each and every customer has a smooth checkout experience.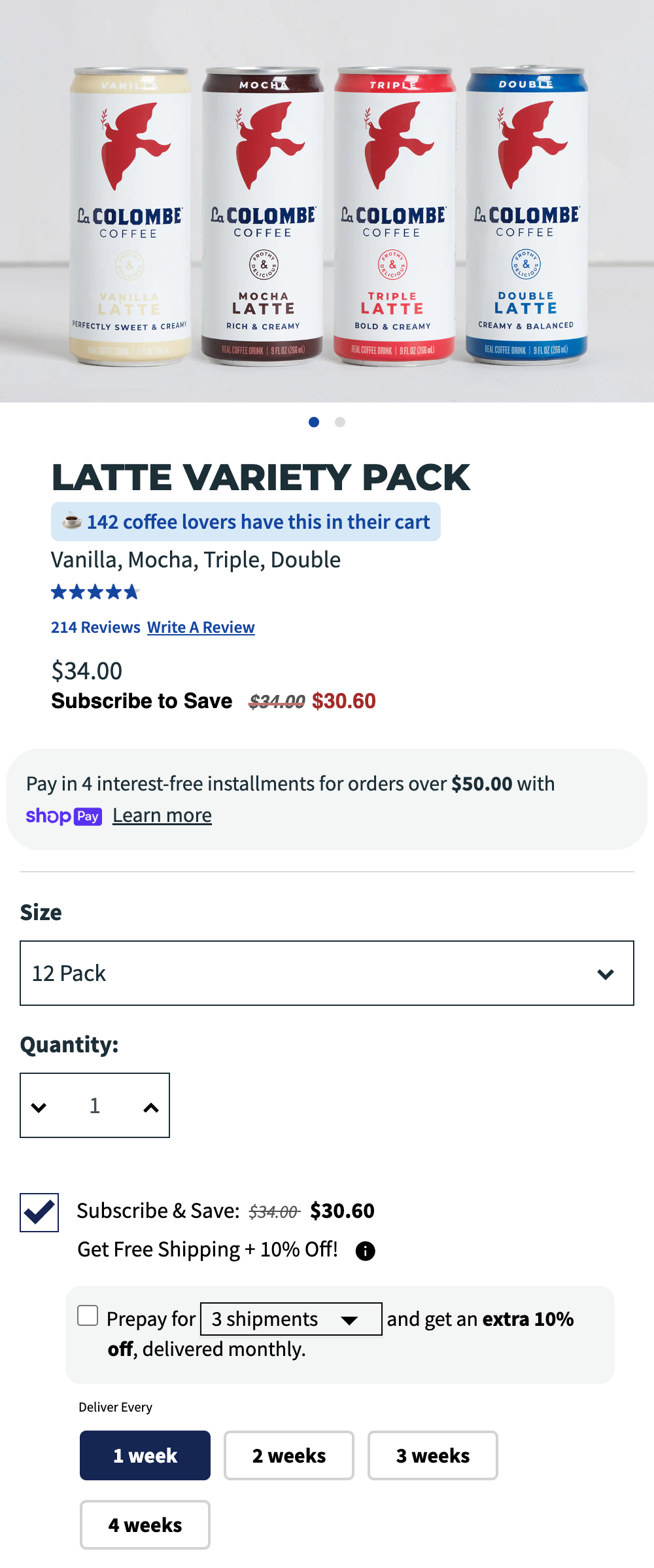 La Colombe Coffee Roasters has a mobile-optimized site with the option to subscribed automatically checked off.
---
Keep your subscription offering above the fold
A number of your customers won't bother to scroll down and read more about your product before they make a snap decision. Make sure your enrollment widget is clearly visible on page load without having to scroll or move the screen - with additional brownie points if it's visible both on desktop and mobile.
---
Make the entire enrollment box actionable
Keep it easy for your customers to checkout with a subscription, and make your entire enrollment widget clickable. If customers need to click specific radio buttons or checkboxes some may not know they didn't swap to a subscription, especially those on mobile devices.
---
Display Both $ and % Discount
List both the percentage and dollar amount of the subscription discount next to the price. This acts as positive reinforcement for your shoppers and can help convince them to subscribe.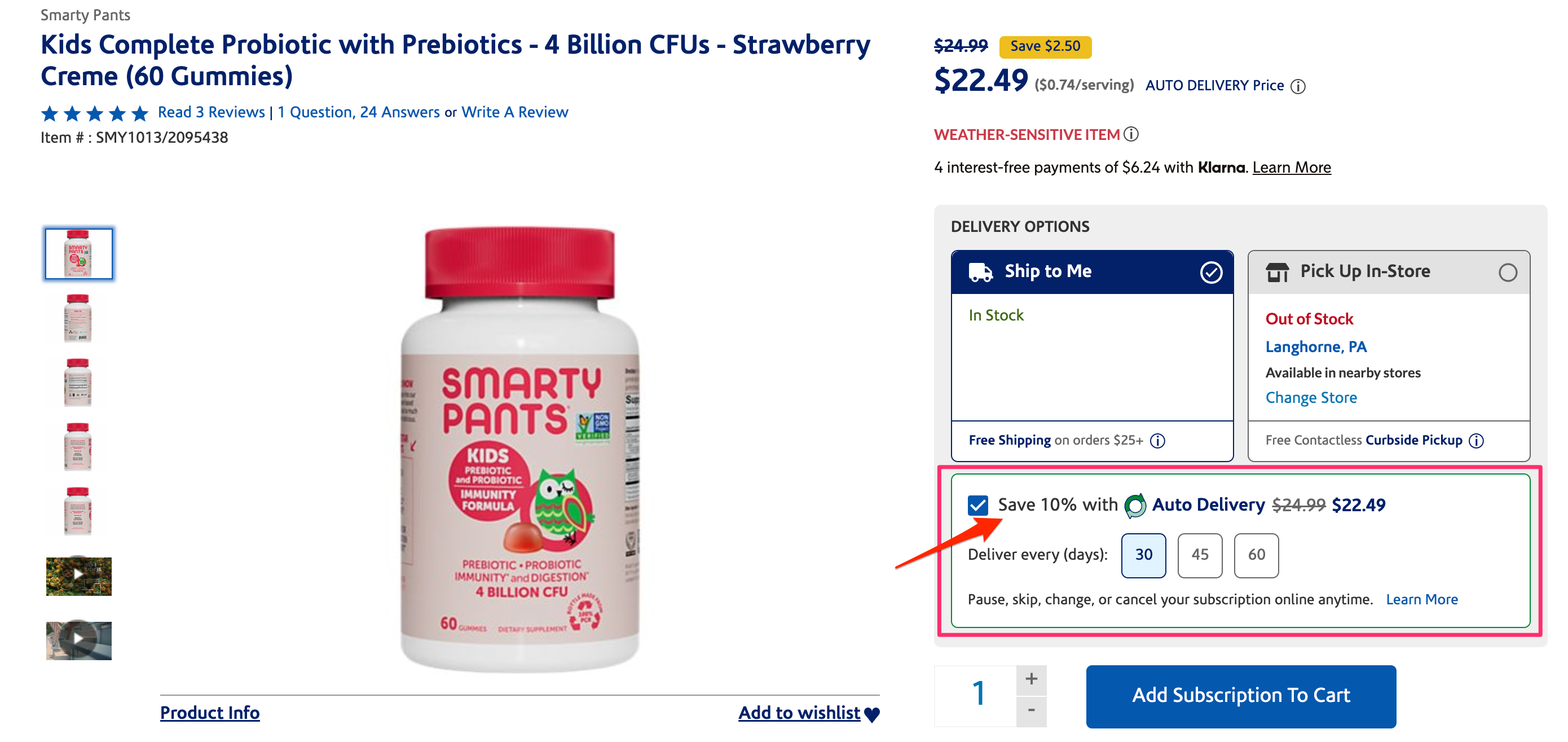 The Vitamin Shoppe lists both the percentage and monetary discount you can expect if you sign up for a subscription.